Last night Becky and I had the privilege to spend the evening with about 3000 people. Most of them we did not know, well, really we only knew one personally and that was Jeremy. Because he was one of the technicians for the Show Hope 10th anniversary celebration #sh10yr . The evening was a concert orchestrated by Steven Curtis Chapman and his wife, Mary Beth Chapman. The celebration of 10 years of Show Hope.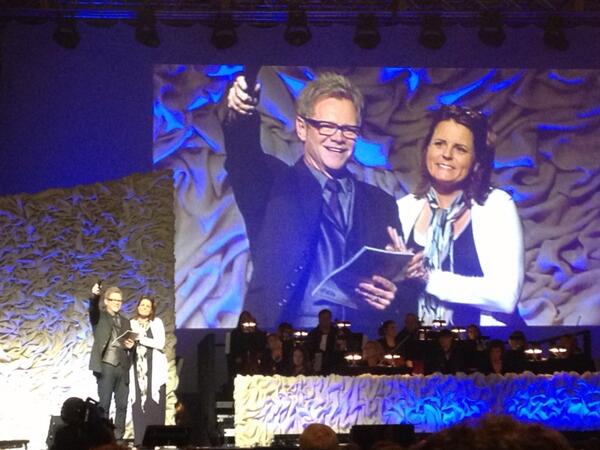 Established in 2003 as Shaohannah's Hope, Steven Curtis Chapman and his wife, Mary Beth initially founded Show Hope out of their desire to see more children find their way into forever families.  Though many families they talked to were willing to adopt, the financial costs to adoption were simply too high.
Originally named after the Chapman's first adopted daughter, Shaohannah Hope Chapman, Shaohannah's Hope has grown far beyond the initial vision of helping a few orphans find homes. In 2009, after changing the name to Show Hope, this organization has seen an amazing explosion in growth. From a six-story caring facility in China, equipped to provide surgeries and medical care to special needs orphans, to multiplying the effects of the adoption grant program by assisting churches in setting up their own adoption funds, Show Hope continues to expand its remarkable worldwide impact.
What a great show for a great cause. A great 3 hours of entertainment, laughter, praising God and just seeing these people as, well, normal people performing unscripted, live.
Below is a list of those that performed or provided support for the show.
The important ones first! There were  many families that have adopted these children in attendance as well as personal stories.
Entertainment and support:
Steven Curtis Chapman and his wife, Mary Beth Chapman
Laura Story
Andrew Peterson
Audio Adrenaline – Mary Beth shared how their hit, Big House, helped bring their daughter Maria to ask Jesus into her heart. Little did they know that a few shorts months later she would be with Jesus.
Casting Crowns – Shared how SCC helped them write and produce their first hit
Geoff Moore
Parts of the Nashville Symphony
Tim Tebow and the Tim Tebow Foundation – Tim announced that the foundation is making it possible for the Barrett family to adopt their third child from China with special health needs. Who is the hero now!
CTS Audio ( Jeremy Connection)
Lipscomb Allen Arena
Others, that I do not know